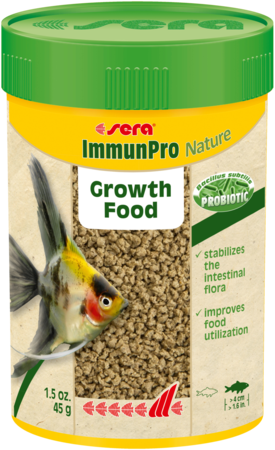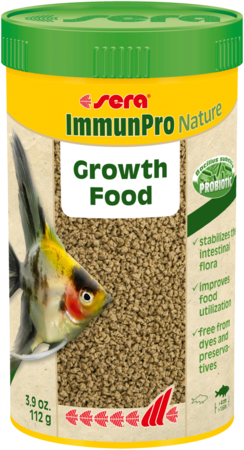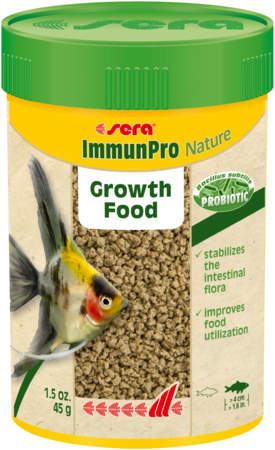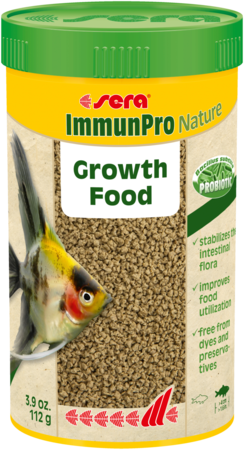 Top Quality Products

Trusted name brands

In-House Experts

We know our products

Best Value

Selling at best possible price

Free shipping within USA

Coral orders over $250, plants and others over $100
Sera ImmunPro Nature
Probiotic Growth Food for Ornamental Fish 
Sera ImmunPro Nature is the growth food for all ornamental fish above 1.6"...
customers are viewing this product
Probiotic Growth Food for Ornamental Fish 
Sera ImmunPro Nature is the growth food for all ornamental fish above 1.6" (4 cm). The probiotics are applied to the food and help to stabilize the intestinal flora of the ornamental fish. They ensure reduced water pollution because of more efficient food utilization. Due to the high protein percentage of more than 50%, the addition of probiotics and other functional ingredients such as MOS, Haematococcus (rich in natural astaxanthene) and Spirulina, the breeder food ensures quick growth, strong development and brilliant coloration of the fish.
The optimized usability of the food supports quick, even development and the health of the fish. The strengthened animals become ill considerably less frequently. Additionally, water pollution by waste products is considerably reduced.
Due to the growth supporting properties of the food, it is excellently suited for breeding ornamental fish.
Directions for use
Feed several times daily, only as much as the animals take up within a short time.
Ingredients
fish meal, wheat flour, wheat gluten, wheat germ, Ca-caseinate, brewers yeast, fish oil (containing 49% omega fatty acids), gammarus, krill, Haematococcus algae (0.5%), mannan oligosaccharides (0.4%), green-lipped mussel, stinging nettle, alfalfa, herbs, garlic, parsley, sea algae, paprika, spirulina, spinach, carrots.
Analytical constituents
Crude Protein 54.1%, Crude Fat 9.2%, Crude Fiber 3.7%, Moisture 5.0%, Crude Ash 7.0%.
Additives
Vitamins and provitamins: Vit. A 37,000 IU/kg, Vit. D3 1,800 IU/kg, Vit. E (D, L-α-tocopheryl acetate) 120 mg/kg, Vit. B1 35 mg/kg, Vit. B2 90 mg/kg, stab. Vit. C (L-ascorbyl monophosphate) 550 mg/kg.
Gut flora stabilizer: 1x1010 CFU/kg 4b1820 Bacillus subtilis C-3102 (DSM 15544).