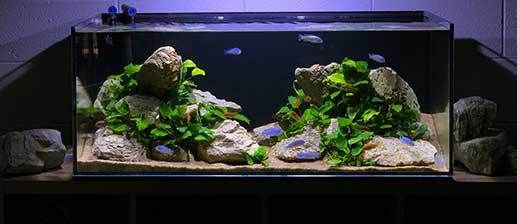 Let's face it. Few places can be as stressful for many people as the waiting room at the dentist's office. Whether the fear is justified or not, many people, young and old alike, fear their next trip to the dentist. Creating a relaxing environment, therefore, is important for all dentists. A professional and attractive waiting room can put your patients at ease and help relieve them of the stress they may feel.
There are of course many ways to create a user friendly and relaxing waiting room environment, from the best magazines to the latest video games. One of the things that has proven most effective over the years, however, is also one of the simplest – the freshwater or saltwater aquarium.
Many medical studies have documented the relaxing effects of watching an aquarium, and doctors have even recommended aquariums to those who are suffering from high levels of stress. It is easy to see why aquariums are such a valued addition to any dental office.
Many dentists, especially those just starting out in the practice, worry that an aquarium will be too expensive to set up and maintain. While it is true that a saltwater aquarium can be quite an expensive undertaking, in terms of both equipment and fish, most freshwater aquariums can be set up quite inexpensively, even by those with little knowledge of the hobby.
The key is to seek the advice of those who have experience setting up and maintaining an aquarium. If you have a friend or family member who has created a beautiful underwater world, be sure to ask them about what to look for, and what to avoid, when setting up your own tank.
The staff at a good pet store or aquarium shop will also be able to provide you with advice on the number and type of fish to stock in your new aquarium, as well as the types of live plants and decorations that would best compliment the setup.  
Perhaps the most important consideration for the dental office aquarium is the choice of stand. It goes without saying that you will need a good study stand, both to complement and protect the aquarium. Many dental offices prefer a setup in which the stand and aquarium are integrated into a single unit. These setups can be an excellent choice, both in terms of beauty and functionality, since all the pumps, filter and other equipment can be cleverly hidden within the stand, providing the viewer with an uninterrupted and relaxing view of nature.
Those dentists who do not want to deal with the hassle of cleaning and maintaining the aquarium may want to sign up for one of the many aquarium services that are available. These services can be an excellent way to enjoy the best of both worlds. You and your patients get the beauty of a flawlessly designed and maintained aquarium, and someone else does all the work. Many of these services can be surprisingly affordable, and they are generally run by those who are experts in the aquarium hobby. This likely means that you will have ready access to all the fish and supplies you need to create an ever-changing underwater world for your patients, your staff, and yourself.